1960s Die-Cuts & Wacky Ads

The Die-Cuts and Wacky Ads were the first Wacky Packages, designed in the late 1960's. These are thick card-like perforated punch-out stickers that were designed to be moistened (like a stamp) before using them. There were 46 Die-Cuts and 36 Wacky Ads. 30 of the Die-Cut designs were later used in the 1st Series of the Original Series Wacky Packages of 1973. These very first wacky packages did not sell that well and are difficult to find today. For reference, I have included a list of Die-Cuts and list of Wacky Ads.


(Click to view entire series)


1967 DIE-CUTS
Year issued: 1967
Number of stickers: 46
Harder to find stickers: Ratz Crackers, Cracked Animals
Summary: All of the Die-Cuts are hard to find. Two stickers were replaced very early on in production, #32 Ratz Crackers and #38 Cracked Animals making them extremely hard to find.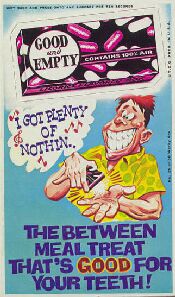 WACKY ADS
Year issued: 1969
Number of cards: 36
Harder to find cards: Good and Empty
Summary: The Wacky Ads were 3 1/8" x 5 1/4" cards and, like the Die-Cuts, are punch-out style sticker cards. Several had multiple stickers on a single card. Some call them the "Wacky Billboards". All of them are hard to find, but #25 Good and Empty was short printed, which makes it very difficult to find.